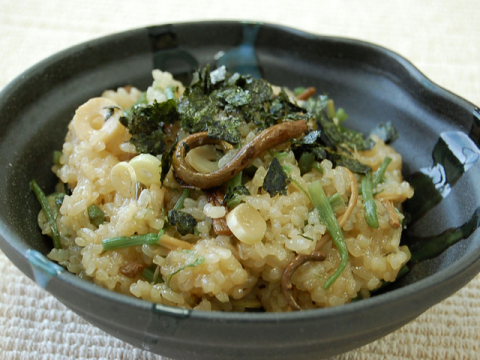 Cook sweet rice with mountain vegetables. Add Nijiya All Natural Wafu Dashi and shoyu.
ニジヤの和風だしとしょうゆを使った、もち米と山菜の炊き込みごはん。
INGREDIENTS: Serves 3 to 4
– Sweet rice…2 cups
– Sansai mizuni (boiled mountain vegetables) …150g
– Shoyu (Soy Sause)…2 table spoon
– Sake…2 table spoon
– Mirin…2 table spoon
– Nijiya Wafu Dashi…2 tea spoon
– Momi Nori (crumbled or shredded sea weed)…As needed.
Direction:
1. Wash sweet rice and rinse until clear. Leave rice in water for 2 hours.
2. Mix in other ingredients. Add water to the mark. Turn on the switch.
3. Sprinkle Momi Nori before serving.
---
材料:3~4人分
もち米…2合
山菜の水煮…150g
しょうゆ…大さじ2
酒…大さじ2
みりん…大さじ1
ニジヤ和風だし…小さじ2
もみのり…適量
作り方:
といで2時間ほど水につけたもち米と、他の材料をすべて炊飯器に入れ、足りない分の水を目盛りまで入れて炊く。炊けたら器に盛ってもみのりを散らす。