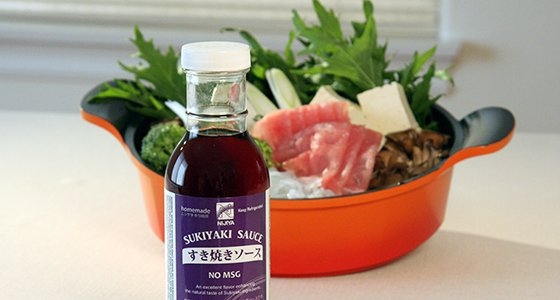 Ingredients (Serves 4~5):
2 packages
Nijiya duBreton Pork
Sukiyaki Slices
1 bottle
Nijiya Sukiyaki Sauce
1 package Nijiya Organic Tofu
1 Package Nijiya Shirataki
1 bundle Mizuna (California Peppergrass)
1/2 bundle Broccoli
2 sticks Long Green Onion
1 package Maitake (Ram's head mushroom)
1 tsp Roasted Sesame Oil
Directions / Cook at the table using a hot plate:
1.Heat up the pan with sesame oil. Spread pork slices and pour Sukiyaki
sauce over them.
Enjoy the meat, first. (you can appreciate the good flavor of meat and
leaves Umami in the pan)
2. Add Mizuna, Onion, Maitake, Broccoli, Tofu and Shirataki in portions and
pour Sukiyaki sauce over them and cook a while. You can enjoy them as they
cook. Add more pork slices.
Suggestions;
Add soy sauce when there is water from vegetables and tofu. Add Sake when
boiled down, too much.
Sukiyaki sauce by Nijiya is made with Umami and natural sweetness and easy
to adjust flavors while cooking at the table
---
材料(4〜5人分)
ニジヤ・デュブリトンポーク・スライス…2パック
ニジヤ・すき焼きのたれ…1本
ニジヤ・オーガニック豆腐…1パック
ニジヤ・しらたき…1パック
水菜…1束
ブロッコリー…1/2房
白ネギ…2本
舞茸…1袋
ごま油…少々

作り方(卓上コンロやホットプレートで加熱しながら食べる場合)
1:鍋にごま油を引いて強火で加熱し、豚肉を広げて入れ、すき焼きのたれを回しかける。

豚肉に火が通ったら、まず肉を先に少しいただく。(豚肉のおいしさがシンプルに味わえます。また、肉の旨味が鍋に残ります。)

2:食べやすい長さに切った水菜、斜め切りにした白ネギ、舞茸、ブロッコリー、適当な大きさに切った豆腐、しらたきなどを少しずつ入れて、すき焼きのたれを全体に回しかけながら、火が通ったものから順にいただく。豚肉も順次入れていただく。

※ おいしくいただくコツ
野菜や豆腐などから水が出た場合は醤油を少量、逆に煮詰まった場合には酒を少量加えながら味を調整する。
ニジヤのすき焼きのたれは、薄まったり煮詰まったり下場合に味を調整しやすいように旨味と甘みを生かして作られています。