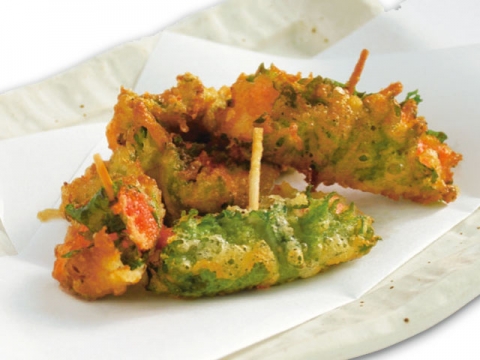 Have some over freshly cooked white rice, or as a drink appetizer.
あたたかいごはんにのせても、お酒のおつまみにも最適です
Ingredients (serves 2):
0.7 oz. tarako
0.7 oz. mentaiko
4 shiso leaves (green perilla)
1/8 lemon Pinch of salt
Tempura batter
Tempura flour (as appropriate)
Water (as appropriate)
Cooking Directions:
[1]Wrap tarako and mentaiko (cut into pieces) in shiso leaves and secure with a toothpick.
[2]Coat in the tempura batter (flour/water mixture).
[3]Deep fry in oil and serve with salt and lemon. Be careful not to over fry!
材料(2人分):
[具材]
たらこ…20g
明太子…20g
大葉…4枚
レモン…1/8個
塩…少々
[衣]
天ぷら粉…適量
水…適量
作り方:
1.たらこ、明太子(切子)を大葉でくるみ、爪楊枝でとめる。
2.衣(小麦粉・水)をつける。
3.油で揚げ、塩・レモンを添える。揚げすぎに注意!