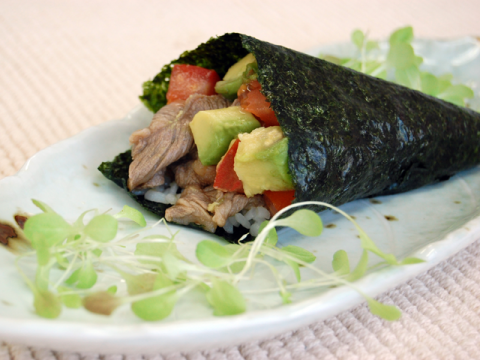 ニジヤのしゃぶしゃぶ牛肉を使った簡単手巻き寿司。ボリュームたっぷりです。
INGREDIENTS (2-3 servings):
Rice … 1 cup
Sushi Vinegar … 2 tablespoons
Beef (Shabu Shabu/thin cut) … 100g
Avocado … 1/2 piece
Tomato … 1/2 piece
Yakiniku BBQ Sauce … 1 tablespoon
Sushi Seaweed … 3 sheets
DIRECTION:
1. Cook rice, and add Sushi Vinegar.
2. Dip beef about 20 seconds in boiling water, and then put it into water with ice. Lightly strain and marinate beef with yakiniku BBQ sauce.
3. Slice both tomato, and avocado into small pieces.
4. Slice sushi seaweed in half, and wrap ingredients into a handroll.
---
材料(2~3人分):
米…1合
すし酢…大さじ2
牛しゃぶしゃぶ肉…100g
アボカド…1/2個
トマト…1/2個
焼肉のタレ…大さじ1
寿司のり…3枚
作り方:
1:米を炊いてすし酢を混ぜる。
2:鍋に湯をわかして牛しゃぶしゃぶ肉をくぐらせ、すぐ氷水につけてから水気を切る。その後、焼肉のタレを絡めておく。
3:トマト、アボカドは1cm角に切る
4:寿司のりを半分に切り、すし飯、材料をのせて手で巻く。