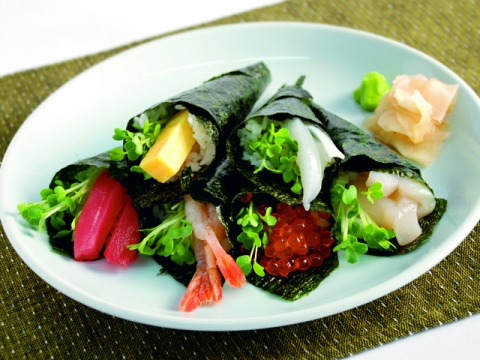 Please put your favorite ingredients!
お好きな具材をのせてどうぞ!
Ingredients (Serves 4):
1packages kaiware daikon
Ikura (salmon roe), shrimp, sashimi and your choice of ingredients
Nori (seaweed) for sushi hand roll (as much as needed)
4 servings sushi rice (vinegared rice)
Cooking Directions:
Place the sushi meshi (vinegared rice) on top of the nori (seaweed), add plenty of kaiware daikon and your choice of other ingredients, and roll the nori.
Add your choice of ingredients, including cheese and tamago-yaki (Japanese omelette), and enjoy!
---
材料(4人分):
貝割れだいこん…2パック
イクラ、えび、刺身などお好みで…適量
手巻き寿司用海苔…適量
寿司飯…4人分
作り方:
海苔に寿司飯を載せてたっぷりの貝割れだいこんとお好みの具材をのせて巻く。