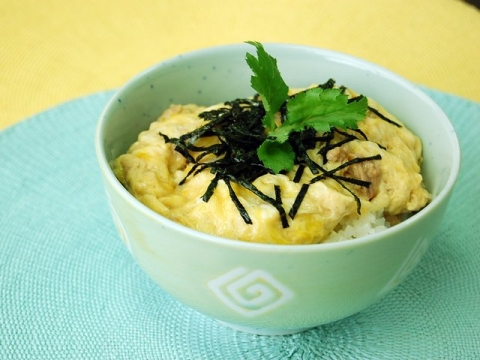 An easy, simple dish that fills your stomach. Add egg to the potato starch and make it even fluffier.
さっと出来るボリューム丼。卵に片栗粉を加えるとふっくら仕上がります。
INGREDIENTS (2 SERVINGS):
1 can Nijiya Tuna Flake Mild in water
2 eggs
2 teaspoon soy sauce
2 teaspoon mirin (Japanese sweet cooking rice wine)
1 teaspoon potato starch
2 servings of cooked rice
shredded dried seaweed as taste
mitsuba as taste
How to Make:
Put the tuna(including the liquid) in a pan, add soy sauce and mirin and boil at medium flame.
Add a mixture of potato starch and water(equal amount) to the egg and mix it with the boiled tuna made in step1. Mix together over high flame. Once the egg begins to harden from the outside of the pan, turn off the heat and pour the mixture on to the rice. When you do this, make sure you pour the liquid as well.
Finish off the dish by topping the rice bowl with shredded dried seaweed and mitsuba.
---
材料(2人分)
ツナ水煮缶…1缶
卵…2個
しょうゆ…小さじ2
みりん…小さじ2
片栗粉…小さじ1
ごはん…2膳分
きざみのり…適量
三つ葉…適量
作り方
1.鍋にツナ缶を汁ごと入れて中火にかけ、しょうゆとみりんを加えて一煮立ちさせる。
2.卵に同量の水で溶いた片栗粉を加えてよく混ぜ、1に加えて強火にしてかき混ぜる。卵が鍋のふちの方から固まってきたら火を止め、ごはんを盛った茶碗に汁ごとかける。
3.きざみのり、三つ葉の葉をトッピングする。