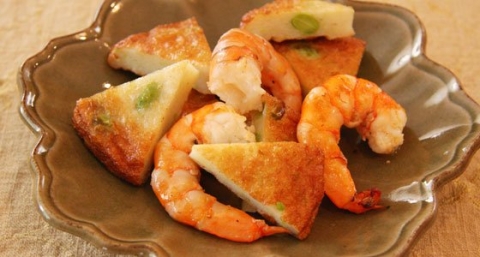 An important point is to season the shrimp beforehand!
海老に下味をつけておくのがコツ!
Ingredients ( Serves 2)
1 Nijiya Satsuma age (edamame as picture)
6 shrimps
2 teaspoon sesame oil
salt as taste
pepper as taste
[marinade]
1 tablespoon sake
1 teaspoon mirin
1 teaspoon soy sauce
How to make:
Peel the shell from the shrimp and pickle them with the marinade for 15 minutes. Cut the satsume age in to an easy to eat size.
Use sesame oil to fry the pickled shrimp in a frying pan. Lightly flavor them with salt and pepper.
Add satsuma age to the mixture and fry a little bit more.
---
材料(2人分)
ニジヤさつま揚げ(写真はえだまめ天)…1枚
海老…6尾
ごま油…小さじ2
塩、こしょう…少々
[漬け汁]
酒…大さじ1
みりん…小さじ1
しょうゆ…小さじ1
作り方
1:海老は殻を剥き、[漬け汁]の材料を合わせて15分程漬け込む。さつま揚げは食べやすい大きさに切る。
2:フライパンにごま油を熱して漬けた海老を炒め、軽く塩、こしょうする。
3:さつま揚げを加えてさっと炒めたらできあがり。