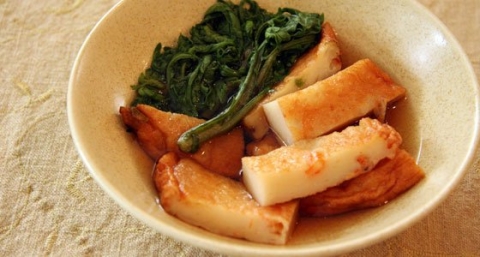 Simply soak in Japanese soup stock! Also delicious when consumed chilled.
だしに浸すだけ!冷やしてもおいしく召し上がれます。
Ingredients (Serves 2)
2 Nijiya satsuma age(Ebi negi ten as picture)
4 Shungiku
Japanese soup stock
1 cup dashi soup
1 tablespoon soy sauce
1 tablespoon sake
1 teaspoon sugar
Cooking instructions:
Mix all the ingredients for the soup stock in a pan and let it boil. After it boils, let it cool down.
Boil water in a different pan and briefly boil the shungiku. After the shungiku is briefly boiled, place in cold water. Squeeze the shungiku to dispense the water and cut in 5 equal parts.
Cut the satsuma-age in consumable sizes and soak with the shungiku in the soup stock for a little while.
---
材料(2人分)
ニジヤさつま揚げ(写真は海老ねぎ天)…1枚
春菊…4本
[汁]
だし汁…1カップ
醤油…大さじ1
酒…大さじ1
砂糖…小さじ1
作り方
1:[汁]の材料を鍋に入れ、ひと煮立ちさせて冷ます。
2:別の鍋に湯をわかし、春菊をさっと茹でて冷水に取り、固く絞って5等分に切る。
3:食べやすい大きさに切ったさつま揚げと春菊を1の汁につけてしばらく置く。