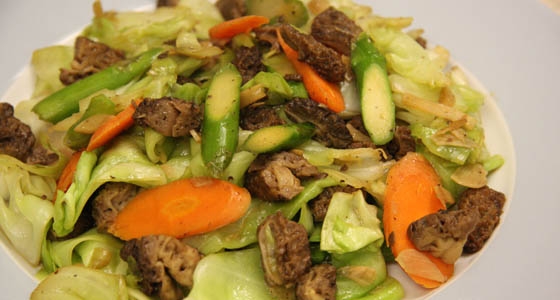 Ingredients(2~3 Servings):
120g Morchellas
3 leaves Cabbage
2 Asparagus
½ Carrot
1 clove Garlic
1 Tbsp Olive oil
2 Tsp Sake
1 Tbsp Nijiya Tsuyu Tennen
Salt and pepper (to taste)

How to cook:
1:Cut the mushrooms in half; chop cabbage in large size; cut diagonally the asparagus in sizes of 1 cm; cut diagonally the carrots, and garlic thinly sliced.
2:Spread olive oil in the pan and stir garlic with low heat. When the garlic is cooked, put carrots, asparagus, mushrooms, cabbage, and sake into the pan and let it fry.
3:When it becomes tender, add in Nijiya's Tsuyu Tennen, salt, and pepper for seasoning. Toss well and turn off the heat.
---
材料(2~3人分):
アミガサタケ…120g
キャベツ…3枚
アスパラガス…2本
にんじん…1/2本
にんにく…1片
オリーブオイル…大さじ1
酒…小さじ2
ニジヤつゆてんねん…大さじ1
塩、こしょう…少々

作り方:
1:きのこは石付きを切り落として半分に切る。キャベツは大きめのざく切り、アスパラガスは1cm幅の斜め切り、にんじんは薄く斜め切り、にんにくも薄切りにしておく。
2:フライパンにオリーブオイルとにんにくを入れて弱火で炒め、香りが立って来たらにんじん、アスパラガス、きのこ、キャベツ、酒の順に入れて炒める。
3:しんなりしてきたらニジヤつゆてんねん、塩、こしょうで味付けして火を止める。