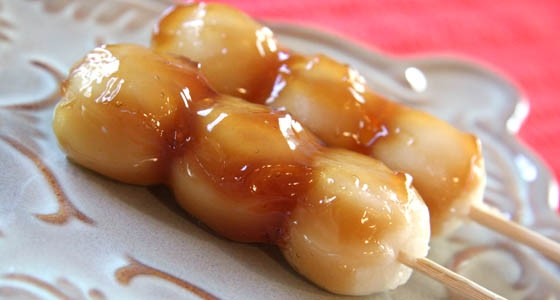 Ingredients (Serves4):
110g dango flour
little warm water (as needed )
[Sauce]
1 tablespoon shio koji
1 tablespoon soy sause
1 tablespoon sake
2 tablespoons sugar
2 tablespoons mirin (sweet cooking rice wine)
2 tablespoons potato starch
How to make:
1. Follow the instructions on the package of the dango flour for the amount of water. Knead. Roll it up about of a size of 2 cm.
2. Boil the dango in a pot. When it starts to float up, wait for 2 mins, take it out with a net, rinse with water, and then stick 3 to 4 dangos on a stick.
3. Put the sauce ingredients except potato starch in a pot, and heat it up on medium heat. When it starts to boil, lower the heat, and mix in the dissolved in potato starch and same amount of water to make it creamy. Put the sauce on the dango and serve.
---
【材料/4人分】
団子粉…110g
ぬるま湯…適量
[タレ]
塩麹…大さじ1
醤油…大さじ1
酒…大さじ1
砂糖…大さじ2
みりん…大さじ2
片栗粉…大さじ2
【作り方】
1:団子粉に、パッケージに記載通りの分量のぬるま湯を加えて捏ね、直径2cmくらいの大きさに丸める。
2:団子を鍋で茹でて、沸騰して浮き上がってきてから2分加熱し、ザルにとって水洗いし、3、4個ずつ竹串に刺す。
3:鍋に片栗粉以外のタレの材料を入れて中火にかけ、沸騰したら弱火にして同量の水で溶いた片栗粉を入れてかき混ぜ、とろみをつける。タレを団子にからめる。