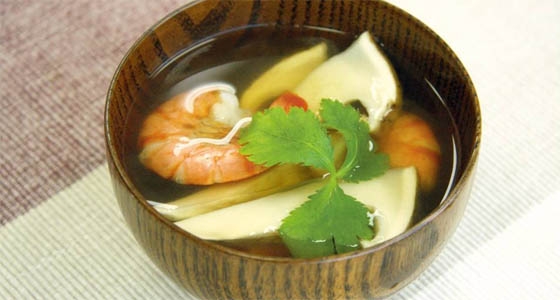 Ingredients (Serves 4):
1 matsutake
8 shrimp
small amount of sake
mitsuba for garnish
[Dashi]:
1 packet Nijiya Natural Soup Stock
17 oz. water
1 teaspoon soy sauce
Salt (to taste)

Directions:
1.Remove dirt from the matsutake with a damp cloth or paper towel. Remove the tough end of the stem and slice the matsutake.
2.Devein the shrimp and marinate in sake before cooking.
3.Combine the dashi ingredients in a pan and bring to a boil. Add shrimp and cook until it boils. Add matsutake and cook quickly.
4.Serve in a bowl with mitsuba on top.
---
材料(4人分)
松茸…1本
海老…8本
酒…少々
三つ葉…適量
[だし]
ニジヤ無添加だし…1袋
水…500cc
しょうゆ…小さじ1
塩…少々

作り方
1: 松茸はぬれ布巾などで汚れを取り、石突きの部分は削り取ってスライスする。
2:海老は背わたを取って酒をふっておく。
3:鍋に[だし]の材料を合わせて火にかけ、沸騰したら海老を入れ、一煮立ちしたら松茸を入れてさっと煮る。
4:器に盛って三つ葉をトッピングする。