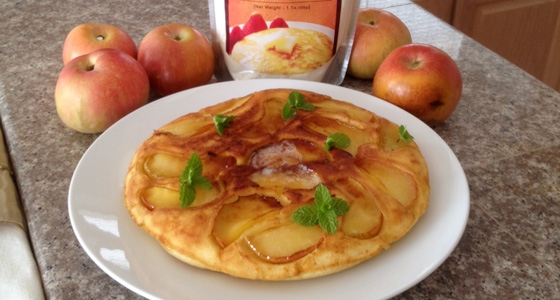 Ingredients (Serves 2~3):
200g Nijiya Pancake Mix
160ml milk
1 egg
1 apple (small)
1 teaspoon sugar
10g butter
lemon Juice to taste
Directions:
1. Cut the apple in half, cut it in a width of 1 cm. Put it in a bowl with the sugar and the lemon juice.

2. In a different bowl, put in the pancake mix, egg, and milk and stir well.

3.On a pan, melt half of the butter and heat the apples and pour in the mix from step2. Put a lid over it, and cook it for a few minutes on low heat.

4. Top the pancake with the remaining butter. It also goes well with mint or powdered sugar.
---
材料(2〜3人分):
ニジヤ有機のホットケーキミックス…200g
牛乳…160cc
卵…1個
りんご(小)…1個
砂糖…小さじ1
レモン汁…少々
バター…10g

作り方:
1:りんごは半分に切り、芯を取って幅1cm弱のくし切りにし、ボウルに入れて砂糖とレモン汁をまぶしておく。

2:別のボウルにホットケーキミックス、溶き卵、牛乳を入れてよく混ぜる。

3:フライパンにバターの半量を熱して強火でりんごをさっと焼き、裏返してから2を流し入れ、フタをして弱火で数分焼く。裏返してからはフタをしないで、もう片面もこんがりするまで焼く。

4:残りのバターをのせてできあがり。あればミントや粉砂糖を飾っても。