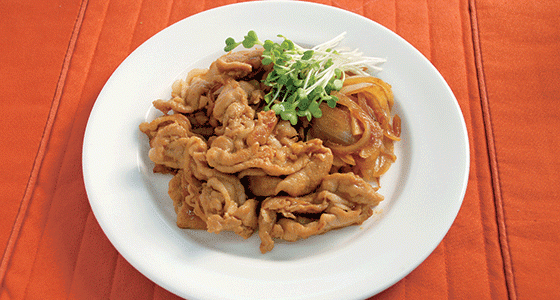 Ingredients (Serves 2):
10.6 oz. thinly-sliced pork loin
1 small onion
Sauce
4 tablespoons soy sauce
1 to 1.5 tablespoons honey
1 clove garlic (grated)
1 clove fresh ginger root (grated)
Salt and pepper (to taste)

Cooking Directions:
1.Cut the pork into bite-size pieces, slice onion to about 2 inches thick, mix all ingredients for the sauce and place everything in a plastic bag. Refrigerate for approximately 30 minutes.
2.Sauté the pork, onion and sauce in a frying pan.
---
材料(2人分):
豚ロース 300g
玉ねぎ  小1個
たれ      
おろししょうが 1かけ分
しょうゆ    大さじ4
はちみつ    大さじ1~1.5
おろしにんにく 1かけ分
塩、こしょう   少々
     
作り方:
1.肉は食べやすい大きさに、たまねぎは5cmほどの大きさに切り、たれの材料をすべて混ぜ合わせ、一緒に袋に入れて、30分ほど冷蔵庫で寝かす。
2.フライパンでタレごと炒めて、出来上がり。