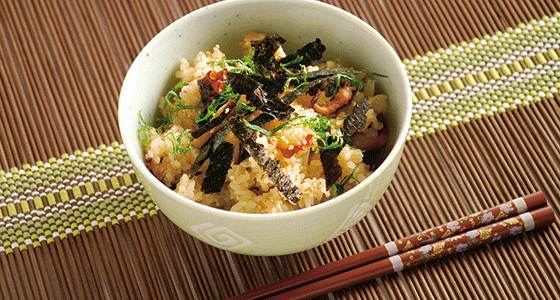 Ingredients (Serves 2-3):
2 cups rice
4.5 oz. boiled octopus
[A] For the sauce
1 pack Nijiya Japanese soup stock
10.8 oz. water
1 tablespoon soy sauce
1 tablespoon mirin
2 teaspoons sake
2 shiso leaves
sesame seeds (as needed)
crushed nori (as needed)
Directions:
1. Rinse the rice and drain for 30 minutes.
2. Slice the octopus diagonally.
3. Combine rice, [A] dashi mixture and octopus in a rice-cooker and cook as usual.
4. Stir and fluff the cooked rice. Serve the rice in a bowl with sesame, crushed nori and thinly chopped shiso leaves on top.
---
材料(2~3人分):
米…2合
ゆでタコ…130g
[A]
ニジヤ和風だし…1パック
水…320ml
しょうゆ…大さじ1
みりん…大さじ1
酒…小さじ2
 
大葉…2枚
ごま…適量
もみのり…適量
 
作り方:
1:米は炊く30分前に洗ってざるにあげておく。ゆでタコは適当な大きさのそぎ切りにする。
2:炊飯器に米、[A]を合わせただし汁、タコを入れて普通に炊く。
3:ごはんが炊きあがったら混ぜて器に盛り、ごま、もみのり、せん切りにした大葉をトッピングする。