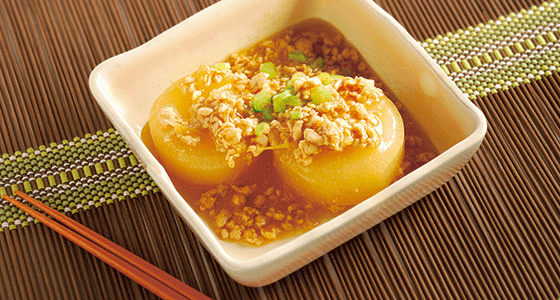 Ingredients (Serves 2):
3-in. daikon
3.5 oz. ground chicken
1 small chunk ginger
[A] For the sauce
6.8 oz. water
2/3 pack Nijiya Japanese soup stock
1 tablespoon soy sauce
1 tablespoon mirin
salt (to taste)
1 teaspoon salad oil
2 tablespoons katakuriko saturated in 2 tablespoons water
Daikon stem (if available), as needed
Directions:
1.Peel the daikon, cut into 0.8 in. blocks. Chamfer the edge on both sides of each slice and par-boil.
2.Chop the ginger into thin strips. Heat oil in a pan and cook ground chicken with ginger. Add [A] and daikon and cook over low heat. Simmer until daikon is tender.
3.Chop the daikon stem and add to the ingredients in the pan. When the mixture comes to a boil, stir in the saturated katakuriko to thicken.
---
材料(2人分):
大根…8cm分
鶏ひき肉…100g
しょうが…1片

[A]
水…200ml
ニジヤ和風だし…2/3パック
しょうゆ…大さじ1
みりん…大さじ1
塩…少々

サラダ油…小さじ1
片栗粉…大さじ2
大根の茎(あれば)…適量

作り方:
1:大根は皮をむき、2cmの厚さに切って面取りする。湯で下茹でしておく。

2:鍋にサラダ油を熱し、鶏肉と千切りにしたしょうがを炒めて[A]と1を加えて大根がやわらかくなるまで弱火で煮る。

3:大根の茎を刻んで加え、一煮立ちしたら同量の水で溶いた片栗粉をまわし入れてとろみをつける。