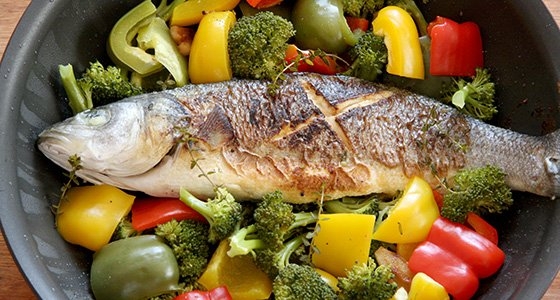 Ingredients (Serves 2~3)
[A]
1 whole seabass
2 T salted lemon
Thyme, Basil
[B]
1 bunch Broccoli
1/2 each of red, yellow and bell pepper
1 T salted lemon
salt, pepper

1 piece garlic
1 T Olive oil
4 T while wine


Directions:
1. Clean the seabass by gutting and scaling.

2. Cut vegetables in pieces and marinade with salted lemon in a plastic bag.

3. Heat frying pan with olive oil and garlic and take the garlic out once it is hot and grill the sea bass.

4. Turn the seabass over once one side is done, add all vegetables around the fish, add wine and salt and pepper, and put the lid on.

5. Cook for additional 5 to 8 min till fish is done.
Nijiya original Salted Organic Lemon
---
材料(約2〜3人分)
[A]
スズキ…1尾
塩レモン…大さじ2
ハーブ類(タイム、バジルなど)…適量
[B]
ブロッコリー…1房
パプリカ(赤・黄・緑)…各1/2個
塩レモン…大さじ1
塩、こしょう…少々

にんにく…1片
オリーブオイル…大さじ1
白ワイン…大さじ4

作り方
1:スズキはウロコや腹の掃除をして水気を拭き、塩レモンをまんべんなくまぶして腹にハーブ類を詰める。ラップして冷蔵庫で一晩置く。

2:野菜類は食べやすい大きさに切ってビニール袋に入れ、塩レモンをまんべんなくまぶして30分ほど置く。

3:フライパンにオリーブオイルと潰したにんにくを入れて中火にかけ、香りが立ってきたらにんにくを取り出して強火にし、スズキを入れて焼く。

4:スズキの片面がこんがり焼けたら裏返し、中火にして野菜類を魚の周囲に置き、軽く塩、こしょうしてワインを入れてフタをする。

5:5〜8分ほど蒸し焼きにし、全体に火が通ったらできあがり。