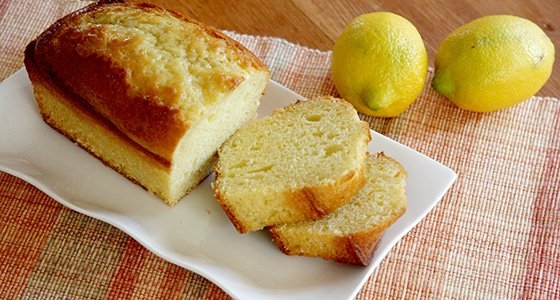 Ingredients:
1/2 Ib Nijiya Hot Cake Mix
1/4 C Sugar
1/4 C Milk
1 Egg
1/4 C Olive Oil
1-1/2 T Nijiya Salted Lemon
For Syrup:
2 T Sugar
2 T Water
1 T Lemon Juice
Directions:
1. Mix Sugar, an egg, Salted Lemon and Olive Oil in a bowl.

2. Add Nijiya Hot Cake Mix, milk and mix.

3. Pour into a greased and floured 10-inch tube pan.

4. Bake at 340 F for 45 min.

5. Put all ingredients for Syrup in a small pan, cook with medium heat and reduce it down to a half.

6. Baste the cake with syrup while the cake is hot and let it cool.
Nijiya original Salted Organic Lemon
---
材料(18cmのパウンド型1本分):
ニジヤホットケーキミックス…200g
砂糖…60g
牛乳…60cc
卵…1個
オリーブオイル…60cc
ニジヤ塩レモン…大さじ1+1/2
[シロップ]
砂糖…30g
水…大さじ2
レモン果汁…大さじ1
作り方:
1:ボウルに砂糖、卵、塩レモン、オリーブオイルを入れて混ぜる。

2:ホットケーキミックス、牛乳を加えて混ぜる。

3:パウンドケーキ型にバターを塗り、生地を流し入れる。

4:170℃に予熱したオーブンで45分焼く。

5:シロップの材料を小鍋に入れて中火にかけ、半量くらいになったら火を止める。

6:焼きあがったケーキにシロップを塗り、粗熱が取れたらできあがり。