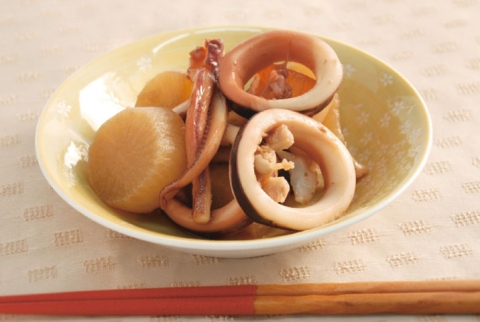 いかの旨みがしみこんで大根も美味しい!

Ingredients (serves 4):
2 whole squid, 1/2 daikon
2-1/2 cups dashi soup stock
1.5 tablespoons sugar
3 tablespoons mirin
3 tablespoons soy sauce
Cooking Directions:
[1]Prepare the squid and wash well. Cut the mantle into rings, and cut the arms/tentacles into blocks consisting of 2 or 3 arms/tentacles.
[2]Cut the daikon into about 1 inch thick slices.
[3]Add the sauce ingredients to the dashi soup stock and heat. Once it starts to boil, add the squid and simmer for 1 to 2 minutes. Remove the squid.
[4]Add the daikon to the sauce. Cover with an otoshi-buta (a drop-lid) and simmer over medium heat.
[5]Once the daikon becomes tender and the liquid is thickened, add the squid.
[6]Tilt the pot to fully coat the squid with the sauce.
材料(4人分):
イカ…2はい
大根…1/2本
ダシ汁…600ml
砂糖…大さじ1.5
みりん…大さじ3
しょうゆ…大さじ3
作り方:
1.イカはさばいてよく洗い、胴体は輪切り、足は2~3本に分けて切っておく。
2.大根は2cm程の厚さに切る。
3.ダシ汁に調味料を入れ、煮立ったらイカを加え、1~2分煮て取り出す。
4.煮汁に大根を入れ中火で落し蓋をして煮る。
5.大根が柔らかくなり、煮汁がトロリとしてきたらイカを加える。
6.最後に鍋をまわして煮汁をからめる。