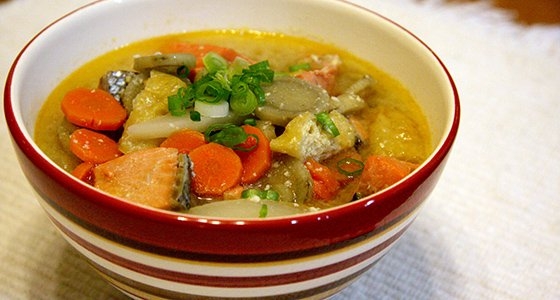 Ingredients (4 servings):
2 slices Salmon fillets
1 Carrot
½ Burdock
5cm minute Daikon
2 Abura age (deep-fried tofu)
900ml Water
1/3 pack Nijiya Wafu Dashi
2 tablespoons Nijiya Mirin Kasu
2 tablespoons Nijiya Mugi miso (even ordinary miso)
1 tablespoon Sesame oil
Green Onions (as needed)
Directions:
1: Cut salmon into bite-sized pieces and remove the bones. Slice the burdocks, carrots into round slices of 5mm width (wash the burdock with water) Cut daikon and abura age into 1cm width.
2: Heat the sesame oil in a pan, and fry the vegetables. After they have wilted, put water, Wafu Dash, and abura age and cook until the vegetables are tender.
3: Add in the salmon, boil until cooked. Add in mirin kasu, and miso.
4: Top it off with green onions.
---
材料(4人分):
鮭切り身…2切れ
にんじん…1本
ごぼう…1/2本
大根…5cm分
油揚げ…2枚
水…900cc
ニジヤ和風だし…1/3パック
みりん粕…大さじ2
ニジヤ麦味噌(普通の味噌でも)…大さじ2
ごま油…大さじ1
ネギ…適量

作り方:
1:鮭は骨を外して一口大に切る。ごぼう、にんじんは5mm幅の輪切り(ごぼうは水にさらしてアク抜きする)、大根と油揚げは1cm幅の拍子切りにする。

2:鍋にごま油を引いて熱し、野菜を炒める。しんなりしてきたら油揚げ、水、和風だしを入れて野菜がやわらかくなるまで煮る。

3:鮭を入れてさらに煮て、火が通ったらみりん粕、麦味噌を溶き入れる。

4:器に盛って小口ネギをトッピングする。