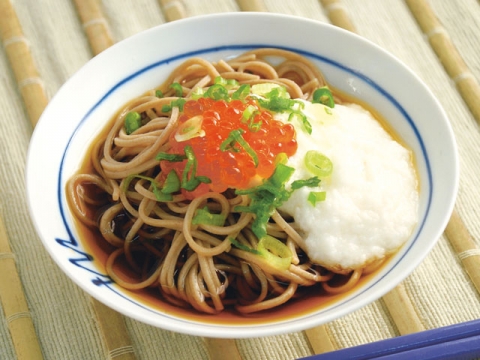 A delightful combination of marine food and mountain food!
海のもの、山のもの、そば好きぶっかけ!
Ingredients (serves 2):
2 servings of soba noodles
About a 2-inch portion of Tororo (grated mountain yam)
4/5 cup Nijiya Soba-tsuyu (soba dipping sauce)
Ikura (to taste)
Green onions (to taste)
Cooking Directions:
[1]Bring a generous amount of water to a boil. Add the soba noodles.
[2]Once the soba noodles are done, immediately drain and rinse under cold running water until no longer slippery.
[3]Drain the soba noodles and place on a serving plate.
[4]Pour the tororo over the soba and place the ikura and sliced green onions on top. Pour Nijiya Soba-tsuyu over and serve.
材料(2人分):
そば…2束
とろろ(ながいものすりおろし)…5~6cm分
ニジヤそばつゆ…200ml 
イクラ…適量
ねぎ…適量 
作り方:
1.たっぷりのお湯でそばを茹でる。
2.茹で上がったらすぐに流水でぬめりを取るようにすすぐ。
3.水を切ってお皿に盛る。
4.とろろをのせて、イクラとねぎをトッピングして上からニジヤそばつゆをまわしかけて出来上がり。