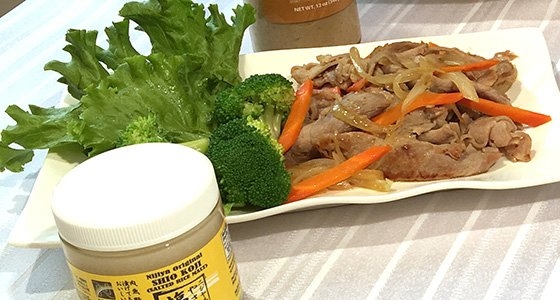 Ingredients: Serves 2
1/2 Ib Pork loin
1 Oz   Shio Koji
1/4      Onion
1/4      Carrots
2 t       Sesame oil
pepper to taste
Directions
1. Marinate Pork loins with Shio Koji and wrap it air tight, keep refrigerated for a half day to a day.
2. Slice vegetables.
3. Sautee the pork meat with sesame oil in a hot pan and take them out to a plate. Sauté the vegetables. When the vegetables are done, put the meat back in the pan to mix them.
---
材料(2人分)
豚肉ロース…200g
塩麹…30g
玉ねぎ…1/4個
にんじん…1/4本
ごま油…小さじ2
こしょう…少々
作り方
1:豚肉をラップに広げて塩麹をまんべんなく塗り、きっちりラップをして冷蔵庫で半日〜1日置く。
2:野菜はスライスする。
3:フライパンにごま油を強火で熱し、豚肉を広げて両面さっと焼いてから取り出し、同じフライパンで野菜を炒め、しんなりしてきたら豚肉を戻して混ぜ合わせ、火を止める。