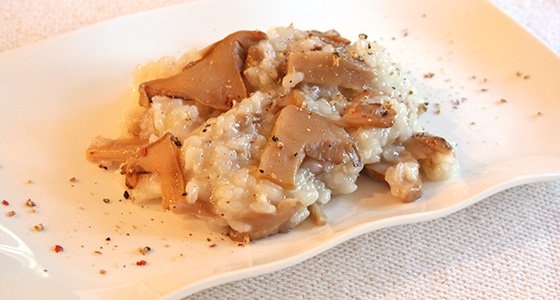 [Ingredients: Serves 2]
2.8 oz. matsutake mushrooms
5.3 oz. uncooked rice
1/4 onion
2-1/2 cups water
1 tablespoon Nijiya Chuka Dashi (Chinese stock)
1 tablespoon olive oil
1/5 cup white wine
1 teaspoon butter
2 tablespoons grated parmesan cheese
Salt and pepper to taste
[Directions]
1. Mince the onion and slice the matsutake mushrooms.

2. In a saucepan, combine water, matsutake, and Chuka Dashi. Bring to a boil; remove the matsutake and set aside.

3. In a skillet, heat olive oil. Sauté the onion until soft; add the rice (do not wash). Stir-fry until the rice becomes transparent. Add white wine and continue to stir-fry.


4. Add the soup stock made in Step 2, a little at a time. Simmer until the liquid is reduced. Add the matsutake and cheese. Season with salt and pepper.
---
[材料(2人分)]
松茸…80g
米…1合
玉ねぎ…1/4個
水…600cc
ニジヤ中華だし…大さじ1
オリーブオイル…大さじ1
白ワイン…50cc
バター…5g
粉チーズ…大さじ2
塩、こしょう…少々
[作り方]
1:玉ねぎはみじん切り、松茸はスライスにする。

2:鍋に水、松茸、中華だしを入れて沸騰させ、松茸を取り出しておく。

3:フライパンにオリーブオイルを入れて熱し、玉ねぎを炒め、しんなりしたら米(洗わない)を入れて炒め、透き通ってきたら白ワインを入れてさらに炒める。

4:2のだし汁を少何度かに分けて加えながら煮て、水分が少なくなってきたら松茸、粉チーズを加え、塩、こしょうで味をととのえる。