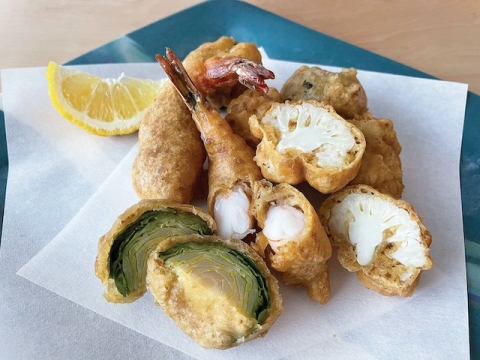 Ideal ingredients (Serves 4)
8 shrimps
6 brussels sprouts
Half head of cauliflower
Oil for frying
[batter]
1 cup Flour
1/3 cup potato starch
1 tsp baking powder
4 tbsp Nijiya Curry powder
1 egg
160ml water
Nijiya Curry powder🌟Available Online🛒
↓ For the Directions & 日本語レシピ

Instructions
1. Peel shrimp (leave tail tip on) and devein. Cut brussels sprouts in half. Cut cauliflower into small pieces.
2. In a large bowl, put all the powder ingredients and mix well. Put 4 tbsp mixed flour aside for dredging veggies.
3. Back to the main bowl, add an egg and water and mix well.
4. Sprinkle the flour on shrimp and vegetables. Then coat with the batter. Fry them for 2 – 3 minutes in heated oil.
For a final touch, sprinkle salt or powdered cheese as you like.
Nijiya curry powder contains 18 kinds spices and 4 kinds fruit juice! No MSG, No preservatives, No animal-derived ingredients.