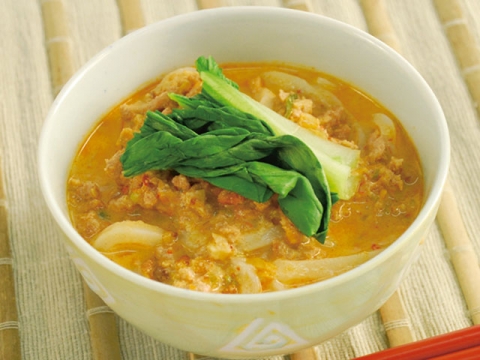 うどんの代わりにそうめんでも中華麺でもおいしくできます。

Ingredients (serves 2):
2 servings of frozen udon noodles (or 7 oz. somen noodles)
3.5 oz. ground pork 1 head chingensai (baby bok-choy)
4/5 cup Nijiya Organic Soy Milk (regular)
1-1/5 cup chicken broth
2/3 green onion, chopped
1 teaspoon garlic, chopped
3 tablespoons white surigoma (ground sesame seeds)
2 teaspoons tobanjan (Japanese chili paste)
1 tablespoon sesame oil
2 tablespoons Nijiya Organic Miso
Cooking Directions:
[1]Cut off the ends of the chingensai and pull off each leaf. Cut the leaves to separate the leafy parts from the tough stems. (Cut the stems in half lengthwise.) In a pot, bring water to a boil. Blanch the chingensai; put in the stems first and then the leafy parts. Take the chingensai out and dip in cold water.
[2]Heat the sesame oil in a frying pan over medium heat, and add the ground pork. Cook until it crumbles. Add the green onions and garlic. Once you smell a strong aroma, add the tobanjan, surigoma and miso, and continue to stir-fry. Pour in the soy milk and chicken broth. Bring to a boil.
[3]Cook the udon or somen noodles and put in serving bowls. Pour the results of step [2] over the noodles and place the chingensai on top.
材料(2人分):
冷凍うどん…2玉(又はそうめん200g)
豚ひき肉…100g
青梗菜…1株
ニジヤオーガニック豆乳(レギュラー)…200ml
チキンブロス…300ml
ネギ(みじん切り)…2/3本
にんにく(みじん切り)…小さじ1
白すりごま…大さじ3
豆板醤…小さじ2
ごま油…大さじ1
ニジヤオーガニック味噌…大さじ2
作り方:
1.青梗菜の根元を切って一枚づつ外し、葉と茎に切り分ける(茎はさらに縦半分にする)。鍋に湯を沸かし、茎→葉の順にさっと茹で、水にさらす。
2.フライパンにごま油を中火で熱し、ひき肉を炒める。ポロポロになったらネギとにんにくを加え炒め、香りが立ったら豆板醤・すりごま・味噌を加えて更に炒める。豆乳とチキンブロスを注ぎ入れ、煮立てておく。
3.うどん又はそうめんを茹で、器に盛り、②のスープを注ぎ、青梗菜をのせる。