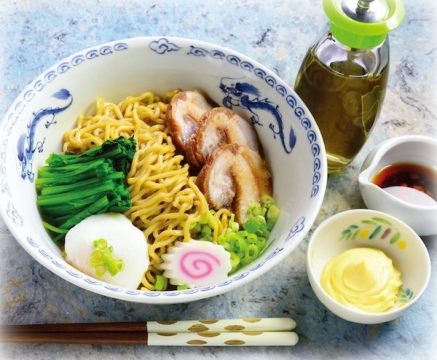 🍜Ramen without hot soup
Ingredients (Serves 2)
2 Uncooked Nijiya organic ramen noodle with soy sauce soup
1 pack of noodle soup
2 tsp Oyster sauce
2 tsp Sesame oil
Chashu (roasted pork)
green onion, boiled spinach, porched egg.. etc
Chili oil, *Kombu extract vinegar, Mayonnaise
*Kombu extract vinegar recipe:
Ingredients;
200ml Vinegar
2 inch Dried Kombu for Dashi
— Put Vinegar and Kombu in a glass or ceramic container and let it sit for an hour.
↓ For the Directions / 日本語レシピ

Directions;
1. In a bowl, put all soup ingredients.
2. Boil the noodle a little bit firm. Drain well.
3. Put it in the bowl with soup and mix well.
4. Put the noodle in serving bowls. Arrange toppings.
5. Enjoy with extra seasoning suggestion!