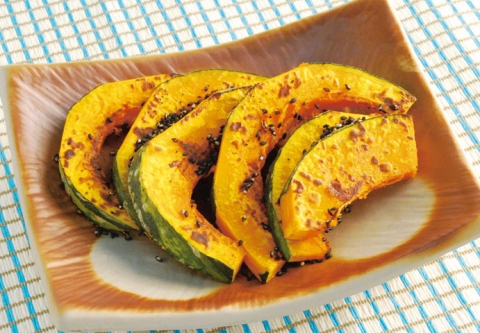 仕上げに少し塩をふると甘さが引き立ちます。

Ingredients (serves 4):
7.0 oz. kabocha
1/2 tablespoon kurogoma (black sesame seeds)
1 teaspoon vegetable oil
Cooking Directions:
[1]Remove kabocha seeds and pulp. Cut into slices 1/3 inch thick.
[2]Dip the kabocha slices in water and place them in a microwave-safe dish. Cover with plastic wrap and microwave for about 1 minute. Heat the oil in a frying pan over medium heat. Arrange the kabocha slices without overlapping them, and pan grill slowly over low heat.
[3]Turn the slices over to bake both sides. Sprinkle with kurogoma.
*Pan-grill the kabocha slowly over low heat until it's browned. The surface becomes crispy without burning.
材料(4人分):
かぼちゃ…200g
黒ごま…大さじ1/2
サラダ油…小さじ1
作り方:
1.かぼちゃは種とわたを取り除き、7mmほどの厚さに切る。
2.水にくぐらせて耐熱皿に並べ、ラップをして電子レンジで約1分加熱する。フライパンにサラダ油を中火でなじませ、かぼちゃを並べ入れ、弱火でゆっくりと焼く。
3.途中裏返して両面とも焼き、黒ゴマを振りかけてできあがり。
※かぼちゃは、弱火でゆっくりと焼き色をつけましょう。焦げずに、表面がカリッとした歯ごたえに仕上がります。