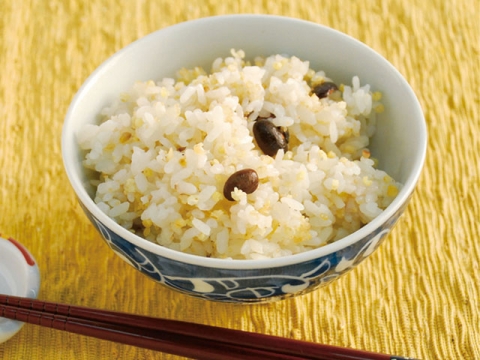 Cooking regular rice with a blend of zakkoku can boost its taste and nutritional value substantially, which can help you feel great and stay healthy every day.
ブレンドした雑穀をお米に加えて炊くとおいしさも栄養価もぐーんとアップして元気が出て、ますます健康的な毎日が過ごせます。
Ingredients:
Organic brown rice Zakkoku (black beans, amaranthus, kamut, kibi and quinoa) The optimal ratio of rice and zakkoku is 10:1.
Cooking Directions:
1.Presoak black beans in water overnight.
2.Presoak brown rice in water for 7 to 9 hours.
3.Lightly rinse the zakkoku, then add to the black beans and brown rice. Add 1.5 to 1.8 times more water compared to the volume of rice, and cook.
4.Once the rice is done, cover and let stand for about 30 minutes to steam before serving.
材料:
オーガニック玄米
雑穀(黒豆、アマランサス、カムット、きび、キアヌ)
米と雑穀が10:1くらいが一番食べやすい割合です。
作り方:
1.黒豆は一晩水に浸しておく。
2.玄米は7~9時間ほど水に浸しておく。
3.雑穀を軽く洗い、黒豆と玄米を混ぜ、1.5~1.8倍の水で炊く。
4.炊き上がったあと、30分ほど蒸らして出来上がり。