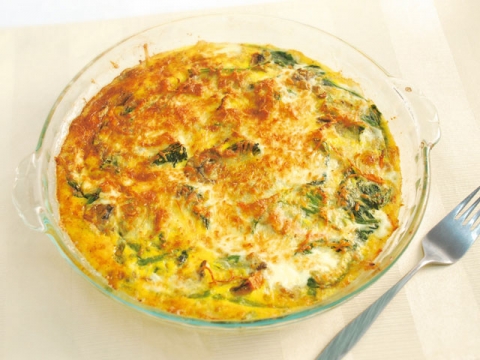 This colorful quiche also contains a lot of vegetables. Enjoy while it's still hot!
彩りも鮮やかで野菜もたっぷり摂れます。アツアツをどうぞ!
Ingredients (serves 4):
2 bunches spinach
1 onion
1 oz. carrots 3 to 5 mushroom pieces
1 small can tuna
4 eggs
3 tablespoons butter
4 tablespoons milk
Mixed cheese (to taste)
Pinch of salt and pepper
Cooking Directions:
[1]Wash the spinach and cut into 2-inch lengths. Cut the onion into thin slices. Julienne the carrot and slice the mushrooms.
[2]Break up the large tuna chunks.
[3]Melt the butter in a heated frying pan and stir fry the results of steps [1] and [2]. Add salt and pepper to taste.
[4]Lightly butter a microwave-safe baking dish. Add the eggs and milk to the results of step [3], and stir. Add salt and pepper to taste. Pour the mixture into the baking dish.
[5]Sprinkle the mixed cheese over the results of step [4], and bake in a preheated oven at 350F until the cheese melts.
材料(4人分):
ほうれん草…2束
玉ねぎ…1個
にんじん…30g
マッシュルーム…3~5個
ツナ缶…小1缶
卵…4個
バター…大さじ3
牛乳…大さじ4
ミックスチーズ…適量
塩、こしょう…少々
作り方:
1.ほうれん草は洗って5センチの長さに切る。玉ねぎは薄切り、にんじんはせん切り、マッシュルームは薄切りにしておく。
2.ツナは軽くほぐす。
3.フライパンにバターを溶かし、1,2を入れて炒め、塩、こしょうで味付けする。
4.耐熱容器に薄くバターを塗って、3にたまごと牛乳を加え混ぜ合わせ塩、こしょうで味を整える。
5.4の上にミックスチーズをのせ、温めておいたオーブンでチーズが溶けるまで焼く。