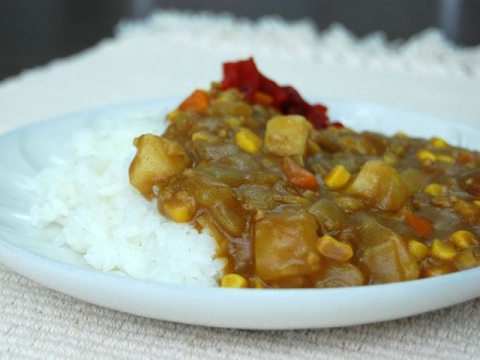 INGREDIENTS: 12 SERVINGS.
CURRY MIX——-1 BOX (240g)
– GROUND PORK————250g
– 1 MEDIUM SIZED ONION
– 1 MEDIUM SEZED POTATO
– CANNED CORN———1
– SALAD OIL————-2 TEASPOON
– WATER———-1200cc
DIRECTION:
1. In a deep pot, heat the salad oil over moderate heat and sauté the ground pork.
Add cubed (1cm) vegetables and drained corn and mix. Cook until soft. Add water and bring to a boil.
2. When vegetables are soft, add the curry roux. Reduce the heat and simmer until the curry roux is completely dissolved.
3. Serve the curry over steamed rice.
---
材料(12皿分)
カレー…1箱(240g)
豚挽肉…250g
玉ねぎ…1個
にんじん…1本
じゃがいも…1個
コーンホール缶…1缶(固形260g)
サラダ油…小さじ2
水…1200cc
作り方
1:鍋にサラダ油を入れて中火で豚挽肉を炒め、火が通ったら1cm角に切った野菜と水気を切ったコーンを加えて炒める。
2:全体がしんなりしてきたら水を入れて煮る。野菜がやわらかくなったらカレーを入れ、弱火でルーが溶けるまで煮る。
3:ごはんにかけていただく。