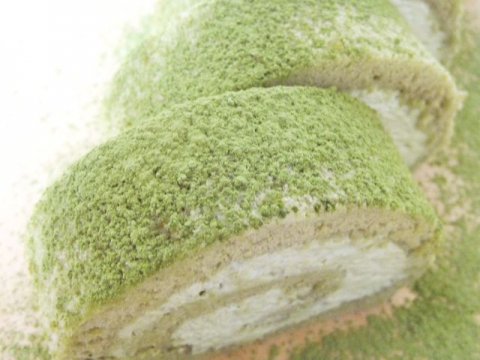 お子様から年配の方まで皆さんに好まれるロールケーキです。
---
Cake ingredients: Size 60cm x 40cm
– 6 large Eggs
– 120g granulated sugar
– 100g flour
– 50ml olive oil
– 40ml milk
– 15g catechin tea powder
Cream ingredients:
– 400ml heavy whipping cream
– 40g granulated sugar
– 10g catechin tea powder
Direction:
1. Mix eggs and sugar in a bowl and warm on hot water. Mix until body temperature.
When warmed, whip until stiff.
2. Add and mix flour and powder tea into 1. Mix in olive oil and milk.
3. Pour batter into a pan with baking sheet. Bake at 350 degree F for 8 minutes.
4. While cooling , mix heavy whipping cream, granulated sugar and tea powder.
Whip until stiff.
5. Spread 4 on 3. Roll cake.
---
(材料/約60cm x 約40cmサイズ)
卵(Lサイズ)   6個
グラニュー糖   120g
薄力粉      100g
オリーブオイル   50ml
牛乳        40ml  
カテキン粉末茶   15g
生クリーム    400ml
グラニュー糖   40g
カテキン粉末茶  10g
(作り方)
1-卵とグラニュー糖をボールに入れ、湯煎の上にのせ、人肌くらいになるまで混ぜ続ける。温まったら、ミキサーでしっかり泡立つまで泡立てる。
2-ふるった粉と粉末茶を1に軽く混ぜ入れる。オリーブオイル、牛乳も混ぜ入れる。
3-ベーキングシートを敷いた鉄板に生地を平に流し入れ、350 F°のオーブンで
約8分焼く。
4-3を冷ましている間に生クリームと、グラニュー糖、粉末茶をボールで混ぜ合わせ、ミキサーで固く泡立てる。
5-4のクリームを生地一面に広げ、手前から奥に向かって巻く。