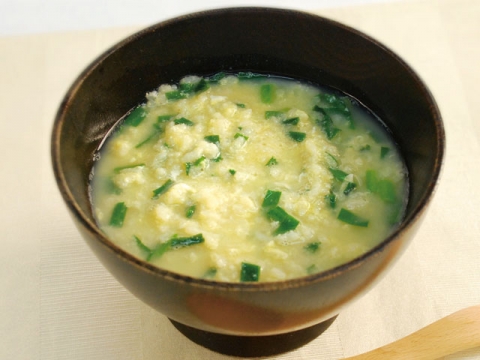 If you've just caught a cold, niratama-gayu is good for you. It will gently provide the energy your body needs to fight off that cold.
風邪のひき始めにはまずこれ!風邪と戦うエネルギーをやさしく体に補給できます。
Ingredients (serves 2):
1/2 bunch nira (Japanese leeks)
2 eggs
2 bowls rice
1-1/5 cups dashi soup stock
Pinch of salt
Cooking Directions:
[1]Cut the nira into 1/3-inch lengths.
[2]In a pot, combine the dashi soup stock, salt and rice. Stir lightly.
[3]Cook the rice/dashi mixture over medium heat. When it reaches a boil, lower the heat and cover. Simmer for 3 to 4 minutes.
[4]Add the nira and simmer for an additional 5 minutes. Stir in the beaten eggs in a circular motion. Cover and let it simmer for 1 minute. Turn off the heat.
[5]Stir the porridge gently and ladle into serving bowls.
材料(2人分)
にら…½束
たまご…2個
ご飯…茶碗2杯分
ダシ汁…300ml
塩…少々
作り方:
1.にらは長さ7mmぐらいに切る。
2.鍋にダシ汁と塩、ご飯を入れ、ざっとほぐす。
3.中火にかけて煮立ったら弱火にしてふたをして3~4分ほど煮る。
4.にらを加えてさらに5分ほど煮たら溶きたまごを回し入れ、ふたをして1分ほどおいて火を止める。
5.全体を大きく混ぜてから器に盛る。