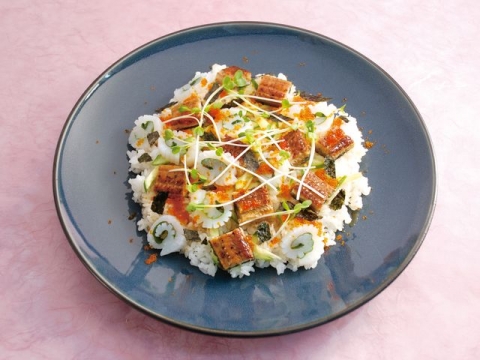 タレとすし飯の組合せがおいしい
うなぎとイカのちらし
---
Ingredients: 4 servings
– Prepared sushi rice for 4
– Eel kabayaki 1pc
– Sake 1 table spoon
– Ika (squid) for sashimi 1pc
– Ooba 3pc
– Kyuri (cucumber) 1pc
– Tobiko 30g
– Kaiware 1pk
– Kizami nori as needed
Ingredients for Unagi (eel) sauce:
– Shoyu 3 table spoon
– Mirin 3 table spoon
– Sugar 2 table spoon
Directions:
1. Mix sauce ingredients and bring to a boil. Allow to cool.
2. Sprinkle sake over unagi. Bake in the over or fish roaster. Cut into bite sizes.
3. Make cuts into the surface of sashimi grade ika (squid). Reverse the squid and put the ooba on it. Roll it and make thin slices.
4. Cut cucumber into thin slices.
5. Put prepared sushi rice on a dish. Sprinkle cucumber, tobiko, ika and unagi on sushi rice and Sprinkle unagi sauce. Finish with kaiware and serve.
---
(4人分)
すし飯・・・4人分
うなぎ蒲焼き・・・1尾
酒・・・大さじ1
刺身用イカ・・・1枚
大葉・・・3枚
きゅうり・・・1本
とびこ・・・30g
かいわれ・・・1パック
刻みのり・・・適宜
<うなぎタレ>
しょうゆ・・・大さじ3
みりん・・・大さじ3
砂糖・・・大さじ2
(作り方)
1. <うなぎタレ>の材料を鍋で煮立てて冷ましておく。
2. うなぎに酒を振りかけ、ブロイラー、高温のオーブン、魚焼き器などのいずれかで焼き直し、ひと口大に切る。
3. 刺身用イカの表面に切り込みを入れ。裏返して大葉をのせ、巻き込んで筒状にし、薄切りする。
4. きゅうりは千切りにする。
5. 皿にすし飯を盛り、きゅうり、とびこ、イカ、うなぎ、をちらし、タレを回しかけ、のり、かいわれで仕上げる。