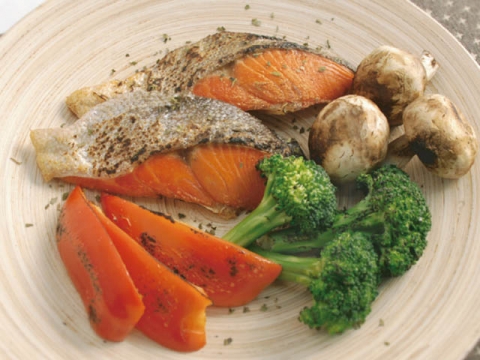 Just simply grill with salt, pepper, and herbs!
塩、こしょう、ハーブで焼くだけ!
Ingredients (serves 4 to 6):
6 lb. – 7 lb. sockeye salmon fillet (unseasoned)
Lemon juice squeezed from 1 lemon
Salt and pepper (as appropriate)
Garlic powder (as appropriate)
Oregano (as appropriate)
1/4 cup melted butter
Directions:
[1] Place the salmon fillet in a deep dish and squeeze the lemon juice over them.
[2] Sprinkle salt, pepper, garlic powder and oregano onto the salmon fillet.
[3] Pour melted butter over the seasoned salmon fillet.
[4] If grilling outside, wrap the salmon fillets in aluminum foil and bake them on a gridiron.
[5] If using a conventional oven, bake at 350F for about 30 minutes.
---
材料(4~6人分):
生紅鮭切り身…6~7lb. 
レモン汁…1個分
塩、こしょう…適量
ガーリックパウダー…適量
オレガノ…適量
溶かしバター…60ml
作り方:
1. 鮭の切り身を深皿に並べて上からレモン汁をかける。
2. 塩、こしょう、ガーリックパウダーとオレガノを上から散らす。
3. その上にさらに溶かしバターをかける。
4. 野外なら焼き網でアルミホイルに置いて焼き上げる。
5. オーブンならば350゜Fで30分ほど焼く。