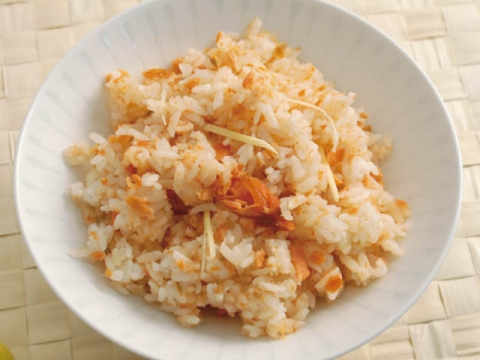 Place the salmon on top of the rice and boil together.
お米の上にサーモンをのせて一緒に炊き込みます。
Ingredients (serves 4):
10.5 oz. rice
1-3/5 cups water
4-in. square Hidaka konbu (dried kelp)
1 teaspoon soy sauce
1 tablespoon sake
1 small piece fresh ginger root
1 piece sockeye salmon fillet
1 sack karashi mentaiko (spicy cod roe)
Directions:
[1] Wash the rice the night before. Soak the rice in water with the konbu overnight.
[2] Remove the konbu. Place thinly sliced ginger, sake, soy sauce and the salmon on top of the rice, and cook.
[3] Once the rice is done, place the karashi mentaiko on the rice and cover. Let it steam for 10 minutes. Remove the skin and bones from the salmon and crumble the flesh over the rice. Crumble the karashi mentaiko over the rice. Mix lightly.
---
材料(4人分):
米…2カップ
水…2カップ
日高昆布…10cm角1枚
しょうゆ…小さじ1
酒…大さじ1
生姜…1かけ
紅鮭…1切れ
辛子明太子…1腹
作り方:
1.米は前の晩にといで、だし昆布と一緒に水に浸しておく。
2.翌朝だし昆布を引き上げ、生姜の千切り・酒・しょうゆを加え、鮭を上にのせて炊く。
3.炊き上がったら辛子明太子を入れて10分程蒸らし、鮭の皮と骨を除いてほぐす。辛子明太子もほぐして軽く混ぜる。