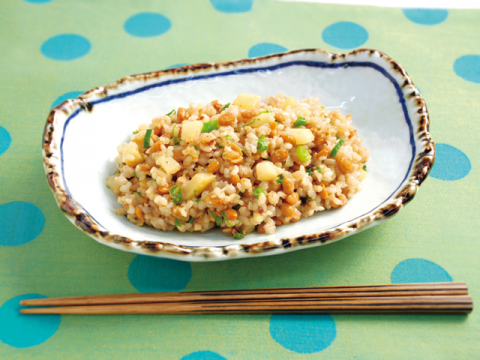 One nutritious chahan.
栄養たっぷりのチャーハンです。
INGREDIENTS(for 2 people):
2 large rice bowls – Brown rice with mixed cereal
2 small packs – natto
4 green onion
50g takuan
Rape seed oil
2 tea spoon – sesame oil
Salt – as needed
1 tea spoon – soy sauce
DIRECTIONS:
1. Mince takuan. Slice green onion thinly. Mix natto.
2. Heat frying pan with grape seed oil and sesame oil. Stir-fry mixed rice.
Add ① and continue. Finish with soy sauce and salt. Keep stir-frying until non-sticky.
---
材料(2人分):
玄米雑穀ごはん…茶碗大2杯分
納豆…小2パック
万能ねぎ…4本
たくあん…50g
菜種油…小さじ2
ごま油…小さじ2
塩…適量
しょうゆ…小さじ1
作り方:
1. たくあんを粗めにに刻む。万能ねぎは小口切り。納豆は混ぜておく。
2. フライパンに菜種油とごま油を熱し雑穀ごはんを炒める。
1を加えて炒め、塩、しょうゆで味を調え、パラりとするまで炒める。