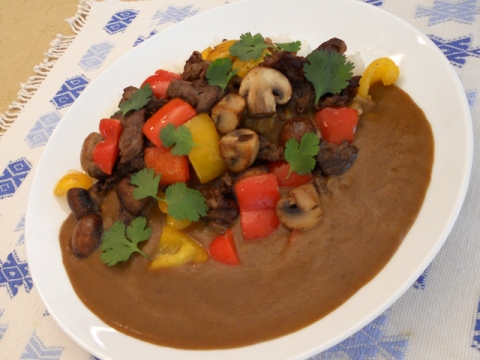 An easy to cook curry dish that will fill you up made with Nijiya's homemade curry sauce. Heat the pack in boiling water for 5 minutes before eating.
ニジヤの手作りカレーソースを使った、簡単調理のボリュームカレー!パックのまま湯せんで5分間沸騰させてお召し上がりください。
Ingredients (for 1~2 people):
Nijiya's Curry Sauce… 1 bag
Beef… 80g
Paprika… 1/4 of paprika
Mushroom… 4 caps
Butter… as needed
Salt & Pepper… to taste
Steamed Rice… as needed
Directions:
1. Cut the beef and vegetables in to bite size pieces and sautéed using butter, flavor with salt and pepper.
2. Heat the Nijiya's home made curry pack in boiling water for 5 minutes.
3. Pour the sauce on to the steamed rice and top it off with the sautéed ingredients.
---
材料(1~2人分):
ニジヤカレーソース…1袋
牛肉…80g
パプリカ…1/4個
マッシュルーム…4個
バター…適量
塩、こしょう…少々
ごはん…適量
作り方:
1:牛肉と野菜は一口大に切り、バターで炒めて塩、こしょうする。
2:ニジヤカレーソースをパックのまま湯せんで5分間沸騰させる。
3:ごはんにカレーをかけ、具をトッピングする。