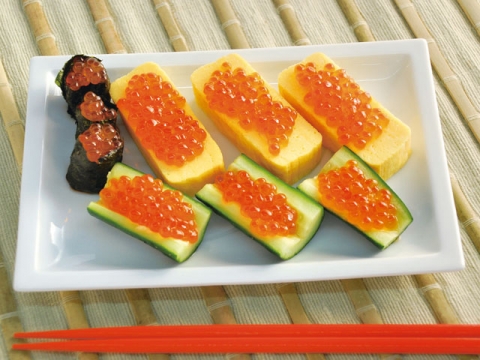 Excellent accompaniments to beer and sake!
ビールに良し、日本酒に良し!
Ikura Cucumber
Ingredients:
shoyu-zuke ikura (marinated in soy sauce) (to taste)
Cucumber (to taste)
Cooking Directions:
[1]Cut the cucumber into 1- to 1.5-inch lengths and then cut each piece in half lengthwise.
[2]Cut out the seeded portion (for each piece) to make a groove down the center of the cucumber.
[3]Place the ikura in the grooves.
Tamagoyaki (Japanese omelet) with ikura topping
Cut an omelet into bite-size pieces and top each piece with ikura.
Ikura, Gunkan-Maki Style (battleship-shaped sushi rolls)
Cut seaweed into small pieces. Wrap the ikura with the seaweed in the gunkan-maki style, and serve.
イクラきゅうり
材料:
イクラ(醤油漬け)…適量
きゅうり…適量
作り方:
1.きゅうりは3cmほどの長さに切り分け、縦半分に切る。
2.中央の種の部分に斜めに切り込みを入れて取る。
3.その部分にイクラをのせてできあがり。
玉子焼きイクラのせ
食べ易い大きさに切った厚焼き玉子の上にイクラをトッピング。
イクラ軍艦巻き風
小さめに切った海苔でイクラを軍艦巻き風に巻いて盛り付ける。