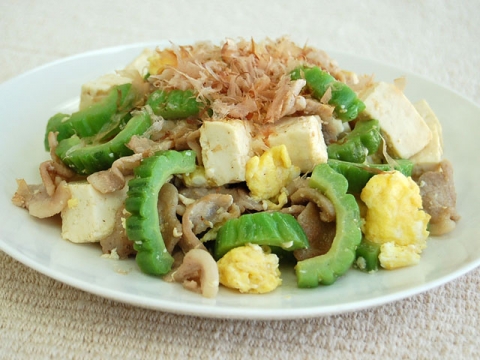 Enjoy Okinawa's local specialty dish at home!
沖縄の郷土料理ゴーヤチャンプルを、ご家庭でお気軽に。
INGREDIENTS (2 Servings):
Goya Bitter Melon — 1 piece
Sliced Pork Belly — 100g
Nijiya Soft Tofu — ½ pack
Egg — 1 piece
Sesame Oil — 2 teaspoons
Oyster Sauce — 1 teaspoon
Soy Sauce — 1 teaspoon
Salt and Pepper — as appropriate
Bonito Flakes — as appropriate
DIRECTION:
1. Cut tofu into bite-size pieces, and strain water with strainer. Cut goya into half vertically, clean inside, further cut into thin slices, and rub with salt. Rinse it with water, and wipe down with paper towel.
2. Warm up frying pan with half of sesame oil, and cook egg into a scramble. Stir-fry it softly cook egg half way and remove it from the frying pan.
3. Warm up the rest of sesame oil with the same frying pan, and stir-fry the slice pork belly first, then add bitter melon, and finally cold tofu and stir successively.
4. Then add the cooked egg to the frying pan, and add oyster sauce, soy sauce, for flavor. Add salt & pepper to your liking. Place it to the serving dish and sprinkle bonito flakes on top.
---
材料(2人分):
ゴーヤ…1本
豚バラ薄切り肉…100g
ニジヤ木綿豆腐…1/2丁
卵…1個
ごま油…小さじ2
オイスターソース…小さじ1
しょうゆ…小さじ1
塩、こしょう…少々
かつおぶし…適量
作り方:
1:木綿豆腐は一口大に切り、ザルに入れて水気を切る。ゴーヤは半分に切って中綿を取り、薄切りにして塩(適量)で揉む。水で洗い流し、水気をよく拭き取る。
2:フライパンにごま油を半量入れて熱し、溶き卵を入れて半熟に炒め、取り出す。
3:同じフライパンに残りのごま油を入れて熱し、豚肉、ゴーヤ、木綿豆腐の順に炒める。
4:炒り卵を戻して、オイスターソース、しょうゆ、塩、こしょうで味をととのえて器に盛り、かつおぶしを散らす。