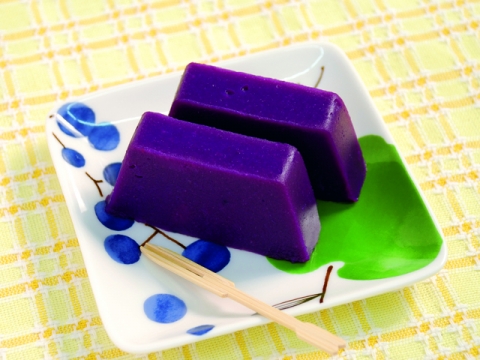 You can make as well in the yellow sweet potato in this recipe.
このレシピで黄色いさつまいもでも同様に作れます。

Ingredients (Serves about 5):
Approx. 14 oz. Purple Sweet Road
3/4 cup water
1/2 teaspoon gelatin powder
2 oz. sugar
Pinch of salt
1 tablespoon milk
Cooking Directions:
1. Peel the Purple Sweet Road by removing more skin than usual, and place in water for 20 minutes. Put the Purple Sweet Road in a pan, add just enough water to cover the potato, and cook until soft.
2. Discard water and puree the potato while still hot.
3. Put the water and gelatin powder in a pan, and mix them over medium heat until the powder dissolves. Boil the mixture for 1 minute, and then add the sugar, salt, and milk. Remove from heat and mix until the sugar dissolves.
4. Add the gelatin mixture to the potato little by little, and mix well.
5. Pour the mixture into a container moistened with water, and flatten the top surface.
6. Chill the container in a refrigerator. When the jelly is firm, remove it from the container and cut into pieces of the desired size.
---
材料(約5人分):
紫いも…約400g
水…190ml
粉寒天…2g
砂糖…55g
塩…ひとつまみ
牛乳…大さじ1
作り方:
1..紫いもは厚めに皮をむいて水に20分さらす。鍋に.紫いもとひたひたのお水をいれ、やわらかくなるまで茹でる。
2.茹で上がったらお湯を捨て、熱いうちに裏ごしする。(つぶすとねっとりとしてくる)
3.鍋に水と粉寒天を入れて、中火にかけ、かきまぜながら煮溶かす。1分半沸騰させたら砂糖、塩、牛乳を入れ、火を止めて砂糖を溶かす。
4.2に3を入れて少しづつ混ぜていく。
5.水に濡らした容器に流し入れ、表面を平らにする。
6.冷蔵庫で冷やし固めたら容器からだして切り分ける。