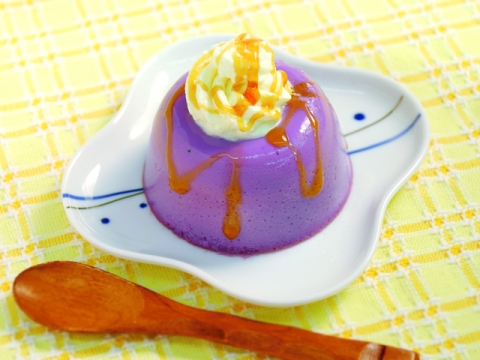 It's a beautiful handmade purple pudding.
美しい紫色の手作りプリンです。

Ingredients (8 pudding molds):
Approx. 7 oz. Purple Sweet Road
1-1/2 oz. sugar
2 eggs
1 oz. butter
3/4 cup milk
1/4 cup fresh cream
Cooking Directions:
1. Cook the Purple Sweet Road until soft (by boiling or in a microwave on low heat setting).
2. Puree the potato while still hot. Put water in an ovenproof to approx. 1/2 inch in depth, place in the oven and preheat the oven to 320°F (160°C).
3. Mix the butter, sugar and beaten eggs into the pureed Purple Sweet Road. Mix in the milk and fresh cream.
4. Pour the mixture into a mold and bake for 30 minutes. (Garnish with caramel source or whipped cream as desired.)
---
材料(プリン型8個分):
パープルスイートロード…約200g
砂糖…40g
卵…2個
バター…30g
牛乳…200ml
生クリーム70ml
  
作り方:
1. パープルスイートロードをやわらかくなるまで加熱する(茹でても、レンジでも可)
2. 温かいうちに裏ごしする。オーブンの天板に1cmほどの水を張って320°F (160℃)に予熱しておく。
3. 裏ごししたパープルスイートロードにバター、砂糖、溶き卵をまぜ、牛乳、生クリームも混ぜ合わせる。
4. 型に流し入れ、320°F(160℃)のオーブンで30分焼く。(お好みでカラメルソースやホイップクリームをトッピングしても)