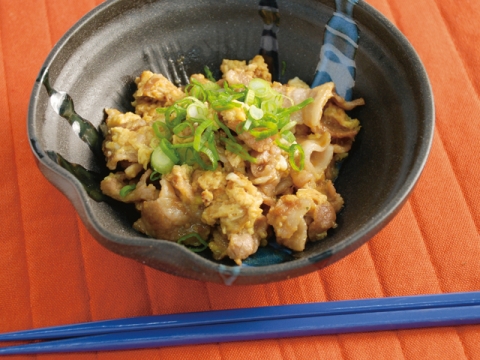 So simple! and so tasty!
Ingredients (Serves 2) :
3.5 oz. pork belly
2 eggs
1 stalk green onion (chopped)
1 tablespoon soy sauce
1 tablespoon mirin (Japanese sweet cooking rice wine)
1 tablespoon of grated fresh ginger root
Oil (as needed)
Cooking Directions:
1. Mix the soy sauce, mirin and grated ginger in a bowl, and marinate the pork for approximately 10 minutes.
2. Heat oil in a frying pan, and sauté the marinated pork.
3. Beat the eggs and pour into the pan. Turn off the heat, and allow the egg mixture to finish cooking in the residual heat.
4. Sprinkle with chopped green onion to finish.
---
とても簡単、とてもおいしい!
材料(2人分):
豚バラ…100g
卵…2個
万能ネギ…1本
しょうゆ…大さじ1
みりん…大さじ1
おろししょうが…大さじ1

     
作り方:
1. しょうゆ、みりん、おろししょうが、を1:1:1の割合でボウルに入れ、よく混ぜ合わせ、そこに豚バラを漬け込む。(約10分)
2. フライパンに油をなじませ、漬け込んだバラ肉を焼く。
3. 溶いた卵を入れ、余熱で固める。
4. 最後に刻んだネギをのせて、出来上がり。