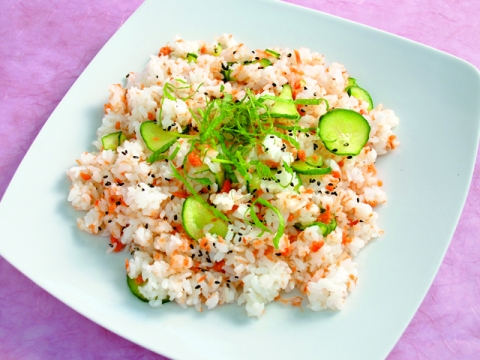 An easy dish with simple ingredients.
シンプルな材料で手軽にできます。
Ingredients (Serves 4) :
Sushi rice to serve 4
3 Japanese cucumbers
A pinch of salt

3 slices of salmon fillet
3 tablespoons mirin (Japanese sweet cooking rice wine)
2 tablespoons sake
A pinch of salt
A pinch of black sesame seeds
5 oba (green perilla) leaves
Cooking Directions :
1. Thinly slice the cucumbers. Sprinkle with salt and let stand for a while.
2. Remove the skin from salmon and cook in a pan with mirin, sake and salt. Use a rice scoop to break the fish into flakes as you cook.
3. Squeeze the cucumbers to drain the water. Mix with sushi rice, salmon flakes and sesame seeds.
4. Julienne oba leaves and sprinkle them over the rice mixture.
---
材料(4人分):
すし飯・・・4人分
きゅうり・・・3本
塩・・・ひとつまみ
<鮭そぼろ>
紅鮭切り身・・・3切れ  
みりん・・・大さじ3  
酒・・・大さじ2  
塩・・・ひとつまみ
黒ごま・・・ひとつまみ
大葉・・・5枚
作り方:
1. きゅうりは薄切りにし、塩をふってしばらくおく。
2. 紅鮭の皮を取り、鍋にみりん、酒、塩と共に入れてしゃもじでほぐしながら炒り煮する。
3. きゅうりの水気を手で絞り、鮭そぼろ、ごまと共にすし飯に混ぜ込む。
4. 大葉を千切りにして上からちらして仕上げる。