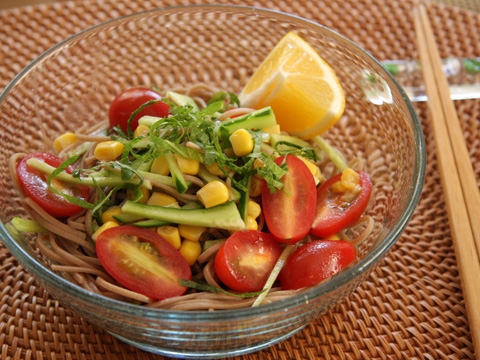 Simple and easy with Nijiya Soba Tsuyu Sauce.
ニジヤのそばつゆはストレート。そのまま使えて便利です。
CMオンエア中!
INGREDIENTS (2 SERVINGS):
Soba buckwheat noodle — 160g
Cucumber — ½ piece
Cherry tomato — 10 pieces
Whole kernel corn — 40g
Oba leaf — 4 pieces
Nijiya Soba tsuyu sauce — 100ml
Sesame oil — 1 tablespoon
Lemon — as appropriate
DIRECTION:
1. Cut cherry tomatoes in half, and cut cucumber and Oba leaf into thin strips. Drain water from corn.
2. Boil Soba buckwheat noodle with plenty of hot water, soak, and strain it well.
3. Move the Soba buckwheat noodle into container, add sesame oil, and add items from line 1 and Nijiya soba tsuyu sauce. Mix them well.
4. Decorate them on a bowl and garnish with lemon slices.
---
材料/2人分:
そば(乾麺)…160g
キュウリ…1/2本
ミニトマト…10個
コーン(ホール缶詰)…40g
シソ…4枚
ニジヤそばつゆ…100cc
ごま油…小さじ1
レモン…適量
作り方:
1:ミニトマトは半分、キュウリとシソは千切りにする。コーンの水気は切っておく。
2:そばをたっぷりのお湯で指定時間ゆでて水洗いし、よく水気を切る。
3:そばをボウルに入れてごま油をまぶし、1の材料とニジヤそばつゆを加えて和える。
4:器に盛って、レモンを添える。