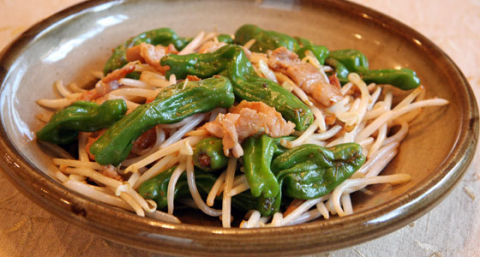 Ingredients (Serves 4)
12 shishito peppers
140g bean sprouts
110g pork meat
1clove garlic
1 tablespoon sake
[Sauce]
1 tablespoon sesame oil
1 tablespoon shoyu koji
Salt and pepper (to taste)
Cooking instructions:
Remove the stem from the shishito peppers and take off the root from the bean sprouts. Cut the garlic in to thin slices. Cut the pork meat in to bite sizes.
Fry the thin sliced garlic with sesame oil on low heat in a fry pan. Fry the garlic until aromatic and fry the pork meat on medium heat. When the meat is partially done, add the shishito peppers and bean sprouts and quickly stir fry. Add the sake in to the mixture and cover the fry pan with a lid. This step will bake the shishito peppers.
Add salt, pepper, and shoyu koji to the mixture and easily stir fry.
---
【材料4人分】
しし唐…12本
もやし…140g
豚薄切り肉…110g
にんにく…1片
酒大さじ1
[タレ]
ごま油…大さじ1
醤油麹…大さじ1
塩、こしょう…少々
【作り方】
1:しし唐はヘタを取り、もやしはひげ根を取る。にんにくは薄切りにする。豚薄切り肉は一口大に切る。
2:フライパンにごま油とにんにくを入れて弱火で炒め、香りが立ってきたら中火にして豚肉を炒め、火が通ったらもやし、しし唐を加えてさっと炒める。酒を振りいれてふたをし、蒸し焼きにしてしし唐に火を通す。
3:塩、こしょう、醤油麹を加えてさっと炒め合わせる。