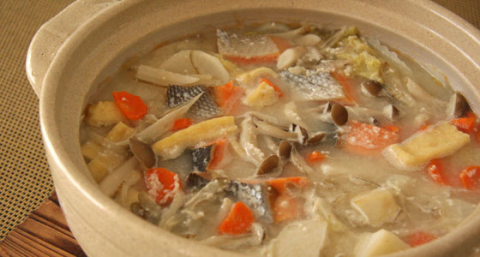 Ideal for cold days! It's good dish that warms the body.
寒い日には最適!体があたたまる一品です。
Ingredients (Serves4)
1/2 packs Nijiya sake kasu (sake lees)
2slices salmon fillet
2 chinese cabbage (nappa)
1/6 daikon
1/3 carrot
2 satoimo
1abura-age (deep fried tofu)
1/4 burdock
½ pack shimeji mushrooms
1tablespoon miso
1pack Nijiya wafu dashi
750ml water
How to make:
1. Put Sake Kasu and water (250ml) in a pot, on medium heat, let it melt.
2. Cut the salmon into bite size. Chinese cabbage 2cm wide. Wash abura-age (deep fried tofu) with warm water then cut it into 1cm wide. Cut up the daikon and carrots. Cut the satoimo into bite size, and quickly boil it. Cut burdock into long thin shavings, and rinse with water. Cut away the hard bottoms from the shimeji mushrooms.
3. In another pot, put in the remaining water and other ingredients except for the salmon, and heat it up with medium heat. When the vegetables become soft, add in the salmon.
4. After putting in the sake kasu from step 1 and the miso, it's ready to eat!
---
材料(4人分)
酒粕…1/2パック
鮭(切り身)…2切れ
白菜…2枚
大根…1/6本
にんじん…1/3本
里芋…2個
油揚げ…1枚
ごぼう…1/4本
しめじ…1/2パック
味噌…大さじ1
ニジヤ和風だし…1パック
水…750ml
作り方
1:酒粕と水の分量の1/3(250ml)を鍋に入れ、中火にかけながら溶かしておく。
2:鮭は一口大、白菜は2cm幅、油揚げは湯で洗ってから1cm幅、大根とにんじんはいちょう切りにする。里芋は一口大に切ってさっと下茹でしておく。ごぼうはささがきにして水にさらす。しめじは石つきを取る。
3:別の鍋に残りの水と和風だしを入れて鮭以外の材料を入れて中火で煮る。野菜がやわらかくなったら鮭を入れ、火を通す。
4:1の酒粕を加え、味噌を溶いたらできあがり。