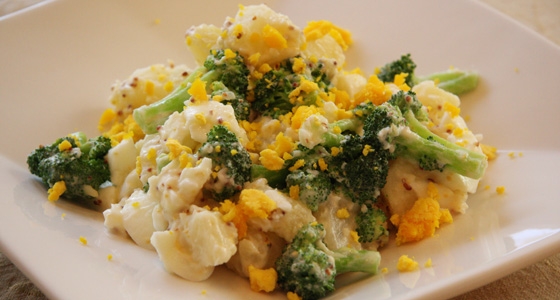 Ingredients (Serves4)
1 potato
10 cluster broccoli
2 boiled egg
[Sauce]
2 tablespoons mayonnaise
1 tablespoon shio koji
½ tablespoon whole-grain mustard
How to make:
1. Peel off skin from the potato, and cut into bite size. Boil it, and when it becomes soft, rinse out the boiling water and put the pot on high heat. Before the potato cools down, mix the [sauce] ingredients together and mix in half of it with the potato.
2. Cut the broccoli into suitable size, and boil it. With a net, get rid of the water. Boiled eggs (about 12-13 min. of boil) remove the egg whites with hands and leave the yolk. Mix both parts with 1.
3. Serve in a bowl, with boiled egg yolk.
---
【材料(4人分)】
じゃがいも…1個
ブロッコリー…10房
ゆで卵…2個
[ソース]
マヨネーズ…大さじ2
塩麹…大さじ1
粒マスタード…大さじ1/2
【作り方】
1:じゃがいもは皮をむいて一口大に切り、茹でてやわらかくなったら湯を切って強火にかけ、鍋をゆすって水分を飛ばす。じゃがいもが熱いうちに[ソース]の材料を混ぜ合わせて半量を絡める。
2:ブロッコリーは適当な大きさに切ってさっと茹で、ザルにあげて流水で冷して水を切る。ゆで卵(水から中火で12~3分茹でる)は黄身を残して白身は手でちぎり、どちらも1と混ぜ合わせる。
3:器に盛って、上から卵の黄身を手でくだいて散らす。