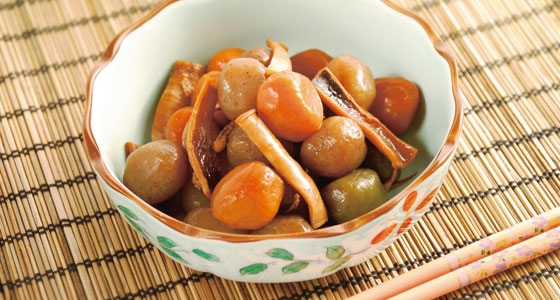 Ingredients (Serves4) :
Tama konnyaku … One bag (14 oz.)
Soy sauce … 4-5 tablespoons
Dried squid … 1/4 sheet
(The leg portion may also be used.)
How to make:
Wash the tama konnyaku, boil in a pot with enough water to soak, cut the dried squid into pieces of appropriate size and add, then add the soy sauce and cover with a drop-lid (otoshi-buta) to boil. Once it boils, turn the heat to medium or high and boil until most of the broth has evaporated.
---
材料:玉こんにゃく‥‥‥1袋(400g)
しょうゆ‥‥‥‥‥‥‥大さじ4~5
するめ‥‥‥‥‥‥1/4枚
 (足のところでもよい)

作り方:
玉こんにゃくは洗って、ひたひたの水を入れて火にかけ、するめを適当に切って入れ、しょうゆを入れて落としぶたをして煮る。沸騰したら中~強火ぐらいにして、ぐらぐらと煮汁がほとんどなくなるまで煮る。