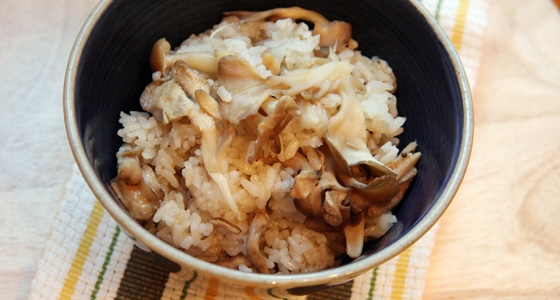 Ingredients (Serves4):
600g rice
200g your favorite kinoko(mushrooms )
[A]
1・ 1/2 tablespoons shio koji
1 tablespoon shoyu
1・1/2 tablespoons mirin
1/2 tablespoon sesame oil
Adjust scale marks of water
How to make:
1. Put the rinsed rice into the net. In the meantime, cut the mushrooms in a suitable size.
2. Put all the ingredients in [A] into the rice cooker, put water in, and then put the rice in. Mix well. Add in the mushrooms and cook the rice.
---
【材料4人分】
米…4合
お好みのきのこ…200g
[A]
塩麹…大さじ1・ 1/2
醤油…大さじ1
みりん…大さじ1・ 1/2
ごま油…大さじ1/2
水…目盛り通り

【作り方】
1:米はといでざるに上げる。その間にきのこ類の石付を取って適当な大きさに切り分ける。
2:[A]の材料を炊飯器に入れ、水を目分量で半量ほど入れてから米を加え、4合の目盛りに足りない水を加えて混ぜる。その後きのこを入れてごはんを炊く。