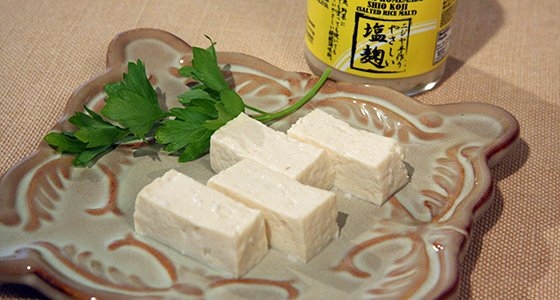 Ingredients:
½ Nijiya's Tofu
8 Teasppons Shio Koji
How to make:
1. Cut the tofu in half, and drain the water well
2. On two plastic wraps, using the back of the spoon spread two teaspoons of Shio Koji each.
3. Put the drained tofu on top of the plastic, and put another two teaspoons on top of each tofu, and wrap it. Enjoy after refrigerating for two, three days.
---
材料:
ニジヤ豆腐(木綿でも絹でもお好みで)…1/2丁
塩麹…小さじ8杯
作り方:
1:豆腐を横半分に切り、ざるに上げて水をしっかり切る。
2:ラップを2枚敷いて、それぞれ塩麹を小さじ2杯置いてスプーンの背で広げる。
3:水気を切った豆腐をそれぞれ塩麹の上に置き、豆腐の上面にも塩麹を2杯ずつ塗ってラップで包む。冷蔵庫で2、3日以上置いてからいただく。