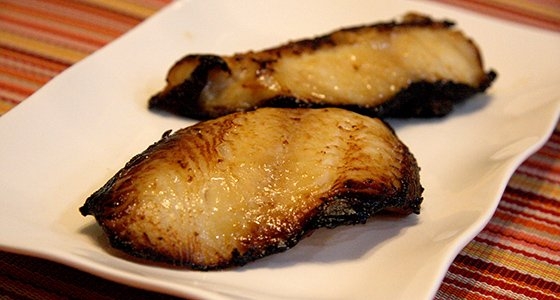 Ingredients (2 servings):
2 slices Cod fillets
Salt (as taste)
[For Pickled sauce]
40g Nijiya Mirin kasu
20g Miso …
2 teaspoons Mirin
2 teaspoons Sake

Directions:
1. Sprinkle salt onto the cod and leave it for about 5 minutes. After, wipe off the moisture with paper towel.

2. Mix all the ingredients for the pickled sauce, and put it on both sides of the cod, wrap it well and place in the refrigerator overnight.

3. Lightly wipe the moisture off the cod, and bake on both sides with a grill.
---
材料(2人分):
鱈切り身…2切れ
塩…少々
〔漬けダレ〕
みりん粕…40g
味噌…20g
みりん…小さじ2
酒…小さじ2
作り方:
1:鱈に塩少々を振って5分ほど置き、キッチンペーパーで水気を拭き取る。

2:漬けダレの材料をよく混ぜ合わせ、鱈の両面に塗ってラップで包み、冷蔵庫で1晩置く。

3:鱈の表面のタレを軽く拭い取り、グリルで両面を焼く。